Thermally-Cured Coating
Give your product a more durable top coat than even liquid paint.
Powder coat has long been evolving as an alternative to traditional paints, and today provides superior performance.  With many powder formulas available depending on what is expected of the coating, there are options for nearly any environment imaginable.
Available in virtually any color, gloss level and texture, powder coat can be applied thick or thin in accordance with manufacturer specifications.
Antibacterial/antimicrobial powder coatings are available – and becoming widely adopted in healthcare institutions or anywhere sterile, sanitary, and easily cleanable surfaces are needed.
We also have the ability to handle technical masking and complex parts, with our template-cutting equipment.
The spraying of powder creates no volatile organic compounds (VOCs), and is extremely environmentally-friendly.  This is yet another aspect making powder coating an attractive option for virtually all industries were traditional paint is not being used any more.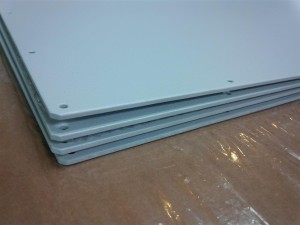 Powder coating is offered on-site through DuraFin Corp.